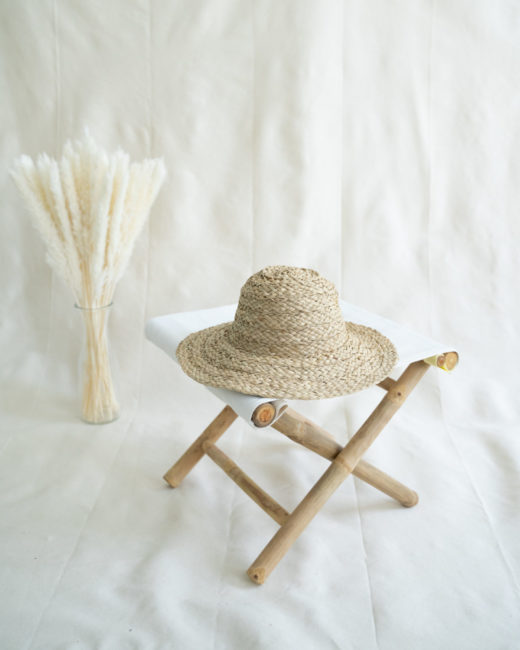 Straw hat "Jimbaran" hand woven
24,90

€
including 19% MwSt.
Delivery time: 1-3 Working days *
HANDWORK this straw hat was handmade with a lot of love in Bali.
NATURAL PRODUCT for the production pure natural products were used.
DIFFERENT USABILITY whether on journeys or as a decoration articles for your home – you can use this hat as accessory or decoration.
LIGHT NATURE DESIGN the simple model with its rounded edges is a real eye-catcher, which protects from the sun and looks chic at the same time. Thanks to its simple design, it can be combined with anything
In stock
Free Shipping (DHL) for Orders with German Shipping Address
Shipping with DHL from warehouse Berlin-Germany
Payment options: PayPal, Sofort. and Banktransfer
---
Hand woven straw hat

If you have ever been to Bali, you will not have been able to get past all those beautiful straw hats. Straw hats are used on the island as protection from the sun, as an accessory for your outfit and as decoration for your home. Our hand-woven straw hat Jimbaran is suitable for all these things and is therefore the perfect companion for your everyday life.
The perfect accessory for the next journey
With the hand woven straw hat you are perfectly equipped for your next trip. The simple design fits to every outfit, it offers you enough protection from the sun and made of a natural material it gives you the necessary dose of summer, sun and holiday feeling.
Straw hat as protection from the sun and as a stylish accessory
This straw hat with its rounded edges can be used in many different ways. If you want to bring the ultimate holiday feeling to your home, you can hang our straw hat Jimbaran on the wall or put it on a shelf as a decoration. But most of all, it completes any of your outfits both when travelling and in summer at home. The straw hat adds those tropical vibes to any outfit that we miss in everyday life, it complements even the simplest look and makes it more interesting. At the same time it also serves as protection from the sun, so the workers on the rice fields on Bali also like to wear it sometimes.
Slight deviations in shape and colour, because the straw hat was handmade
Slight variations in shape and colour are possible with each of the straw hats, as each one is lovingly handmade. In addition, the measurements are average values, even here there can be slight variations.
Details for this Product
| | |
| --- | --- |
| Dimensions | Diameter: 19 cm, L x W x H: 40 cm x 40 cm x 12 cm |
| Material | Straw |
| Country Of Manufacture | Indonesia |