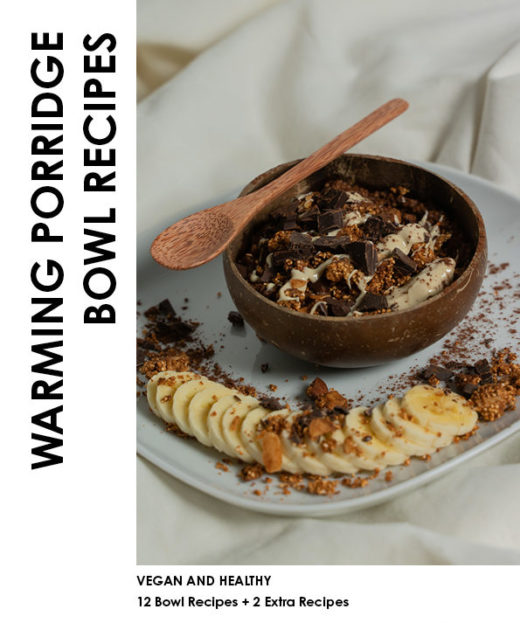 Warming Porridge Bowl Recipes E-Book
7,90

€
including 19% MwSt.
Delivery time: Immediately after receipt of payment by email
VEGAN All recipes in this cookbook are suitable for vegans and are prepared with plant based products only.
HEALTHY Porridge is not only healthy and delicious with oatmeal, but also with alternatives like quinoa. This is a balanced way to start the day.
VERSATILE With six different oatmeal alternatives, this cookbook is very versatile and will help you eat a healthy and varied breakfast.
EASY All recipes are easy to prepare and most ingredients can be reused directly.
Free Shipping (DHL) for Orders with German Shipping Address
Shipping with DHL from warehouse Berlin-Germany
Payment options: PayPal, Sofort. and Banktransfer
---
12 Porridge Bowl Recipes – versatile breakfast
Hidden in this e-book are delicious porridge bowl recipes that are anything but boring and two additional recipes for the perfect breakfast. Move away from oatmeal to more creativity in your breakfast bowl with millet, buckwheat flakes, semolina, rice pudding and quinoa.
These recipes are not only easy to prepare and do not require many ingredients, but are also super delicious and healthy. No matter what you're in the mood for this morning, you're sure to find the right breakfast bowl here.
Below is a small excerpt from our Porridge Bowl Recipes e-book:
Peanut Butter and Jelly Porridge
Baked Apple Millet Porridge
Matcha Porridge
Zucchini Quinoa Porridge
Coconut rice pudding with mango
Speculoos Semolina
Oat free Granola
Nut butter
+ six more Porridge Bowl recipes.
Matcha Buckwheat Porridge
Extra recipes for the perfect start into the day
What should not be missing on every breakfast table? Of course, granola and nut butter! These two are definitely our favorite toppings as well, so we wanted to share them with you. The various porridge recipes are joined by a recipe for oat-free, gluten-free granola and simple nut butter to make by yourself.
Wide range of options
The best thing about our e-book with the delicious porridge bowl recipes is that it offers you much more than just these twelve recipes. You can get really creative here and, for example, swap the different basic ingredients or even mix two recipes together.
There is also a lot of room for you when it comes to the toppings. We give you great combinations, but you can always add more toppings or swap out or omit individual toppings depending on your taste. Just exactly the way you like it.
Zero waste and sustainability
We also want to think about the environment with our e-book. Therefore, we have chosen the ingredients of the recipes so that they appear again and again. This way you can have a varied breakfast, but you don't have to buy and start with new food every time.
Porridge Bowl recipes can also be enjoyed in a particularly sustainable way from our coconut bowls. These are made from fallen coconuts, they are an absolutely natural product.
Oatfree Granola