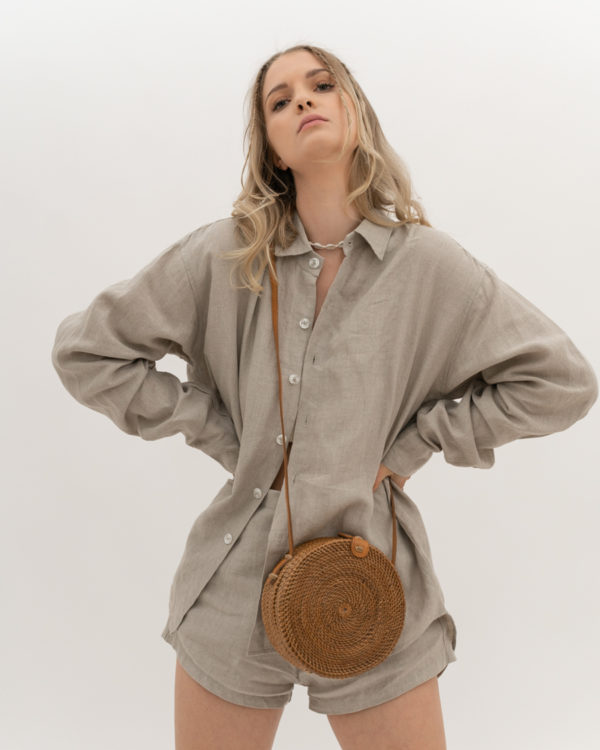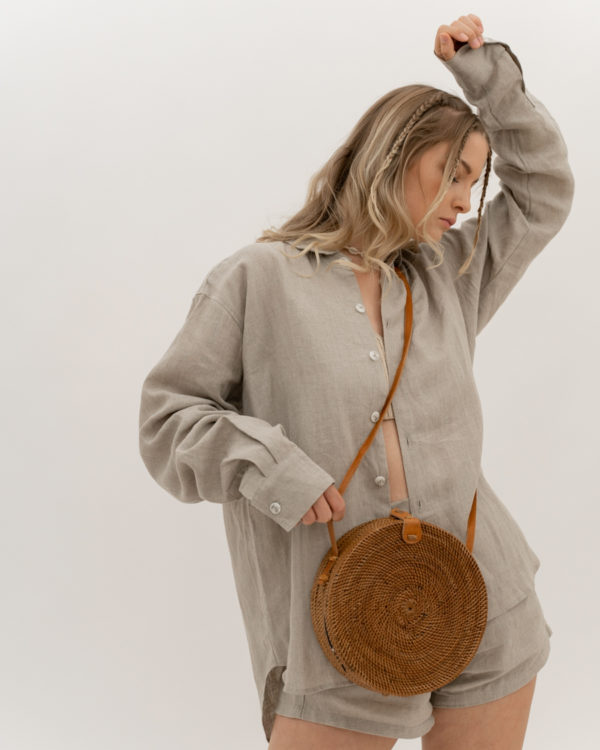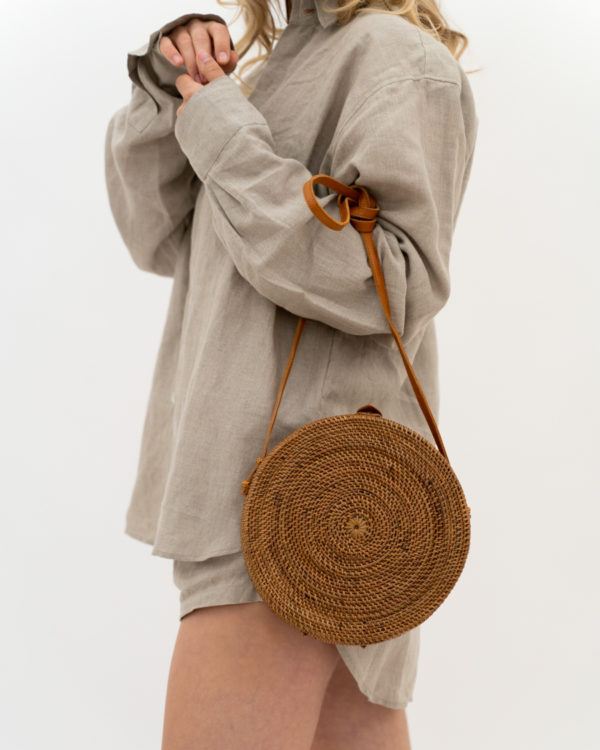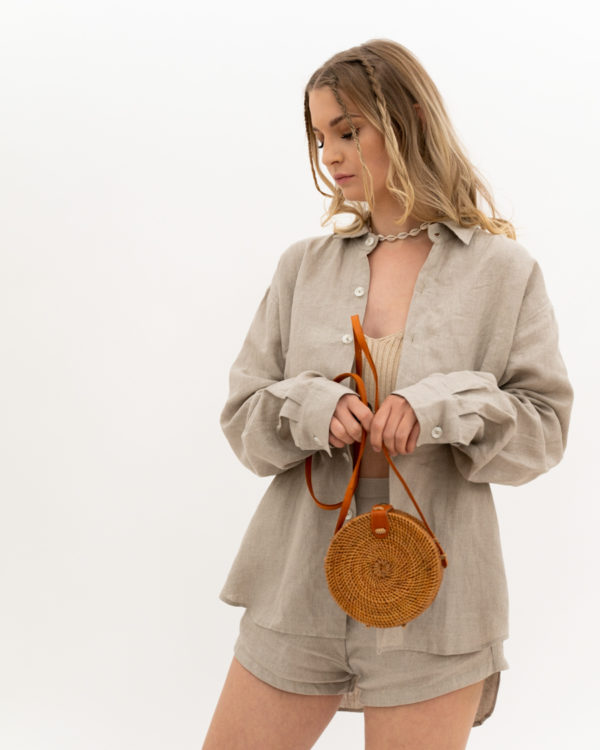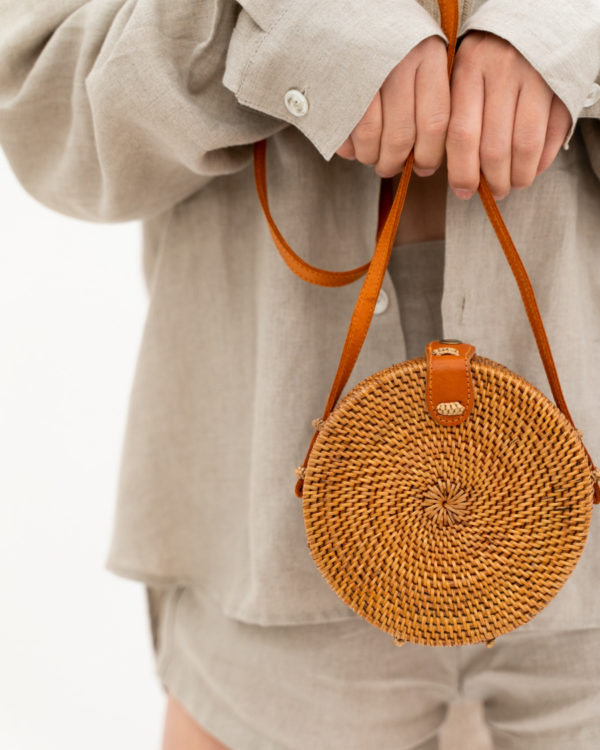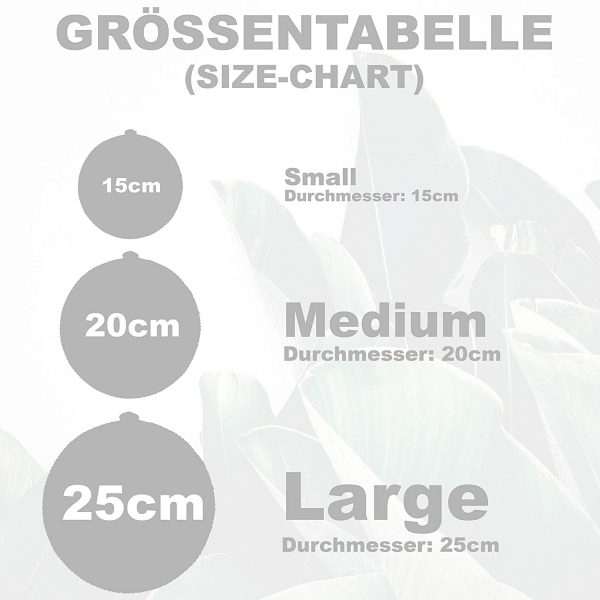 "Canggu" natural bali bag made of ata-grass
HANDMADE formed over the fire made from dried coconuts in Bali-Indonesia

UNIQUE every bag is made by hand and so it has its own story

HIGH QUALITY ata grass from our own cultivation and genuine leather (from leather rests)

AUTHENTIC FROM BALI it's directly imported from a small family business in the north of Bali

INNER LINING textile in the typical, white, bali batik look which is used as clothes in temples and should bring positive karma
Deliverytime
Delivery time: 1-3 Working days *
Shipping with DHL Premium
Shipping from Warehouse in Berlin, Germany
Free Shipping
For all orders with a delivery adress in Germany.
For orders over 50 Euro in Europe.
The classic Bali bag as a must-have in your wardrobe
Anyone who has ever been to Bali will know the classic round Bali Bag, also called Ata Bag. It is THE Bali product. No other product screams Bali as much as our bag "Canggu". We discovered it in the beautiful town of Canggu and for this reason it is named after this town.
Today it has become an important part of our wardrobes. The Bali bag is an absolute must-have for summer and not only on trips, but also in the city, because it can be combined both casually and chic.
The production of the Bali Bag
We were very impressed by the production of the Bali Bag, because to become so perfect, it goes through a long process of loving handwork.
Before the fabric is sewn into the Bali bag and leather straps are attached, it first dries in the Balinese sun. No machines are used here, only nature. Then the bags are smoked from ata grass and get their typical smell.

Three colours and sizes for more variety with your Bali bag "Canggu"
Our Bali bag "Canggu" is best described with the word variety, becaue we brought it from Bali in as many variations as possible. Our Bali bag is available in three different sizes and colours and the first collection has a different fabric inside every bag- just like you would find it on Bali itself.